Clickfunnels Vs WordPress | Top Website and Funnel Builder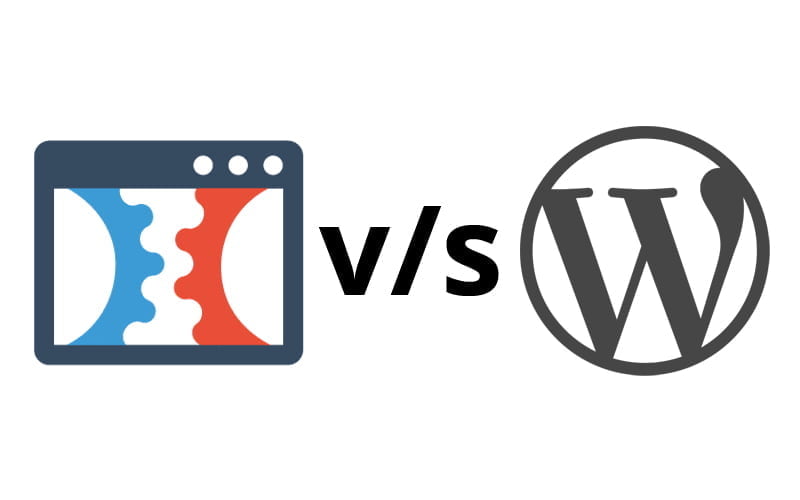 Over time, many things have evolved and websites are one of them. Some decades ago the concept of online sales and marketing was a dream and only a few businesses had websites. There were few users of the internet and it was not as famous as it is nowadays.
Nowadays everyone is using the Internet and due to the traffic, every business has a website. There are thousands of websites for a single sort of business.
What makes your website special? Can it still do what it is intended to do?
Simply no, you need sales funnels these days. Modern problems require modern solutions!
There are a lot of ways you can build your websites and funnels, one of the best among them is to use a template-based builder. We have one of the best website builders "WordPress" and one of the best funnel builders "Clickfunnels".
Let's discuss the differences between Clickfunnels and WordPress.
What are these best at?
Clickfunnels was built with a mindset that made it to be the best sales funnel builder. Though they claim that it can also build websites but is best at what it does the best. You can run your marketing and sales from Clickfunnels. Read Clickfunnels vs Leadpages.
WordPress is one of the best Website builders. It was built to make amazing websites and it is good at that. It is responsible for 26% of the web!!!
Function:
The basic function of Clickfunnels is to build various template-based pages that get incorporated into the funnel in such a way that it gets conversions.
WordPress is a diverse tool as compared to Clickfunnels. Unlike Clickfunnels it gives full control over the website. You can do whatever you want by installing the Plugins.
SEO:
WordPress does more SEO oriented work as compared to Clickfunnels.
The websites that are built through this are more likely to get the traffic and these websites are specifically designed for that. Funnels have a completely different function.
Conversions:
Clickfunnels can get you more conversions as compared to WordPress. The basic idea of sales funnels is psychology based. Funnels get a lot of business for you.
Cost:
Clickfunnels:
Basic plan: 97$ per month
Full plan: 297$ per month
It also offers yearly subscriptions.
WordPress:
It is free as compared to Clickfunnels. You have to spend only to buy domains and host them. Each domain can cost 15$ per annum and its hosting starts from 2.95$ per month. Read BuilderAll vs Clickfunnels.
Time of use:
You have to spend a little time on Clickfunnels to build a funnel. Just a few clicks and you are good to go. If you want to build a website, it will take quite some time.
For WordPress, you have thousands of plugins that you can use to publish blogs, make websites, and pages quickly. If you want to make a funnel through WordPress, then may God help you!
Marketing and Business growth:
Clickfunnels is all about innovation in marketing and teaching how to do that. There are a lot of successful people on the social media pages who guide you and teach you things that can get your business a boost.
WordPress on the other hand is not interested in any of this. Read Clickfunnels vs Unbounce.
Value:
Both tools are perfect for what they are best at.
You can't just ignore the one and get to the other after reading this. They are best at different things and you want those different things for you. Both of these have their benefits and shortcomings but you can use them both at the same time to get a perfectly good setup for your business. Check Kartra vs Clickfunnels.
The accounts of Clickfunnels and WordPress can be connected. Do that! use both!
DroidOwl is dedicated to providing cutting edge sales and lead generation solutions for large and small businesses. Contact Us to know more.
Jacob is a Digital Marketing fanatic. He loves to learn and implement new techniques to highlight the best practices in search engine optimization and Facebook Ads.
He is always seeking knowledge and opportunities so he can share his acquired wisdom with the world.
He started working at a small marketing firm early in his career and learned how to create social media and email marketing campaigns. From there, he moved on to work at a more prominent digital marketing agency, where he learned about SEO, PPC, and CRO.
He loves to study and research different SEO and CRO strategies so he can apply them in his work. He firmly believes that the people and clients he's worked with have influenced his skill growth, and he loves to help others improve their skills.
He's very driven and continually seeks ways to solve problems, create new innovative ideas, and increase his knowledge. Jacob always ensures that his work is done professionally and accurately. In his free time, he loves to go for long runs, listen to music, and spend time with his family.
About this blog
We help our clients through our services and write our novel findings through our blog to help out others.
Request a free quote
DroidOwl offers time tested Facebook Advertisement, Search Engine Optimization, and Web Development services that help brands attain and retain customers.
Subscribe to our newsletter!