I'm sure that you've probably heard about the One Funnel Away Challenge by now…
(…you know, the 30 days challenge to build and launch your online funnel while having Russell Brunson, Julie Stoian, and Stephen Larsen as your coaches?)
If not, then don't worry. I'll explain the whole process in detail.
Who should take this One Funnel Away Challenge?
Read these questions…
Getting started or have no idea where to begin?
Are you in a 9-5 job that you hate and want to start your own Business?
Feeling stuck with your Business or Company?
Figuring a way to have a large impact on the World?
Convinced that you need a Funnel or want to make your next one a huge success?
If your answer to any of the above questions is "YES", then you should definitely join the challenge.
How to take the OFA Challenge?
Just click the below button to sign up for the challenge. Once you sign up, send us an email to cfbonus@droidowl.com with your order details to receive your bonuses.
What if I want my money back?
Now, that's the beauty of this challenge. If you're not satisfied with the challenge, you get 30 Days to return the products and claim a full refund.
What are the Bonuses that you mentioned?
There are 2 types of bonuses that you get… These are the bonuses from ClickFunnels…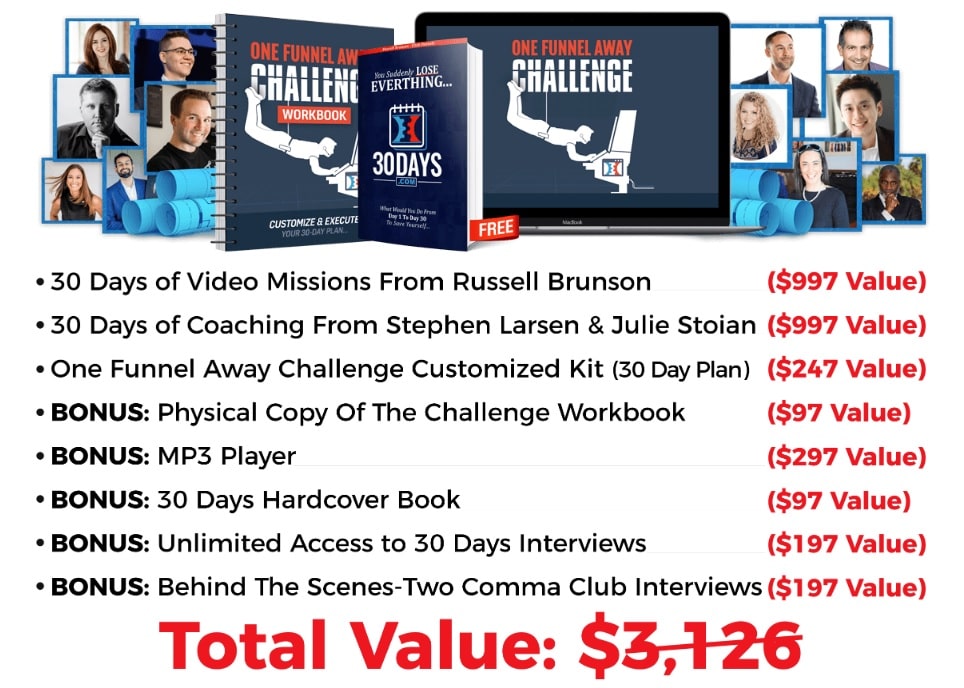 There will be a bonus from our side as well. After your purchase, mail us at cfbonus@droidowl.com with your order details to get $100 FB ad credit. This is a very limited time offer from a third party (we'll send you the link to avail the offer).
The Ultimate Collection of 100+ Cold Email Templates worth $1997.
How much does the OFA Challenge costs?
It costs just $100. But if you compare the price with it's the value and Bonuses, then it costs nothing!
What will you learn with the OFA Challenge?
In layman terms, you'll learn to earn $100 per day. Let me elaborate that for you. You'll learn
To create high converting offers
Connect with people with your story and get their attention
Structuring and building your first (or next) funnel
And finally how to get people (the traffic) to it
Weekly Overview of the Program
Week #1 Hook, Story and Offer
Creating Products
Secret Of E-Covers
Offer Sequencing
The Greatest Showman
Offer Hacking
Week #2 Hook, Story and Offer
Testing your Material
Epiphany Bridge
Publishing your Origin Story
Testing Hooks/Stories
Week #3 The Funnel
Members Area
OTO Page
Sales Page/Order Form
Squeeze Page
Generate A Lead/Make A Sale
Week #4 Make It Rain
The 3 Types Of Traffic
The Dream 100
Hooks (Earned)
Hooks (Paid)
What Happens When Your Funnel Flops
A good plan violently executed now is better than a perfect plan executed next week.

George S. Patton
So… The question is… Do You Accept?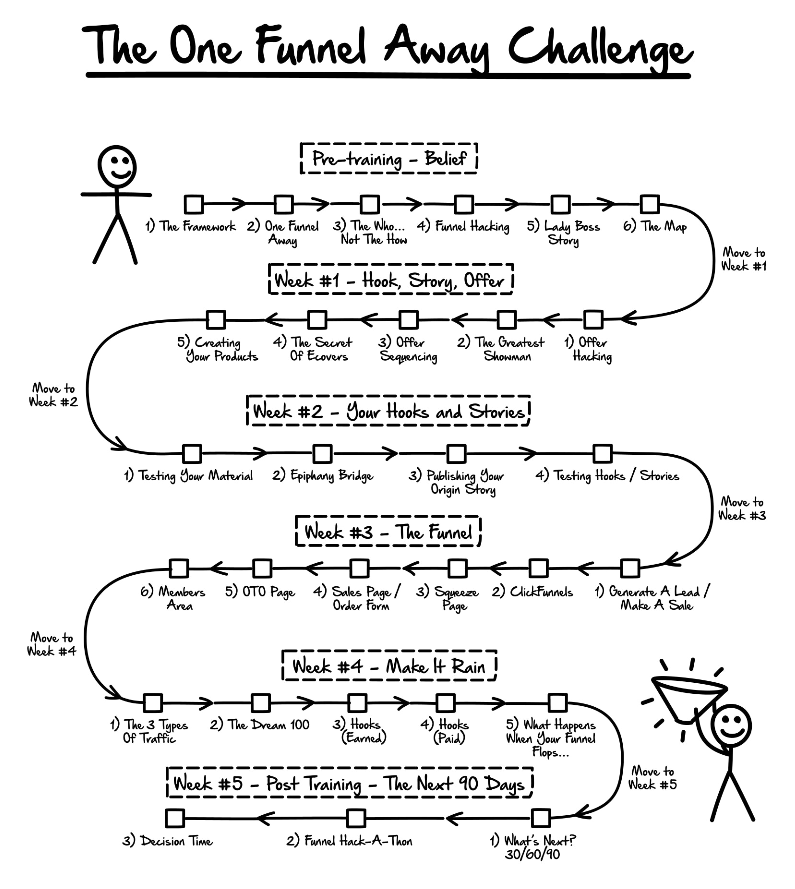 Let's see what Russell has to say about the challenge…
"Hey, my name is Russell Brunson and I want to welcome you to my channel.

I am so excited to have you here today, and I'm making this video because I was looking online, and there's a whole bunch of people that have videos to talk about how to make $100 in a day. And I was watching a bunch of these videos to see what people are teaching.

It kind of drove me crazy. Some people had these complex plans that were like, these huge, elaborate things. I was like, there's no way that is even physically possible for the average human. And the other side, they have these plans that are so simple, like, that would never actually work.

And I got really, really frustrated and I started thinking, what would I tell somebody, if my mom or my brother or my sister, somebody I love was sitting here, and they were desperately looking like, I need a hundred bucks a day.

What should I be doing? I was like, what would I actually tell them?

And so, that's the whole premise of this video.

What would I tell my mom or my brother or somebody, if they needed to make $100 in a day?

Okay?

And so, kind of what I wanna do, I wanna take you back in time a little bit. If you don't know who I am, I'm the founder of a software company called ClickFunnels. And ClickFunnels is a really powerful tool. It helps people build sales funnels.

The problem is a lot of people, at first, don't know what a sales funnel is. They're completely confused. And so, we started building a bunch of education and things to teach people how to build funnels. In fact, one of our best education products is this one. It's called The One Funnel Away Challenge.

Now, I'm not here today to pitch you on that, but I want you to understand, that this is our training package. It's huge, it comes with books and mp3 players, and a whole bunch of training, as well as a 30-day live training program that trains people on how to use and how to create a funnel for their business.

And, it's one of the most powerful training tools we have. And, it's so powerful, in fact, that I actually give affiliates $100 for every single one of these boxes they give away, okay? So, it actually, if you go to OneFunnelAway, and you sign up, it costs $100 to get the kit, but I pay affiliates the entire $100.

So, I would tell my wife or my sister or my friend, or whoever's doing this, I'd say, go to One Funnel Away, click right here on this tab that says Affiliates, and become an affiliate, and then tell people to sign up for the challenge. Every person signs up for the challenge, they pay me $100, and then I give that $100 directly to the person who just signed them up.

So, what's powerful about this, is, you can literally go down the street to businesses and say, hey, what's your web presence right now, and they're like, I have a website, or I have whatever, and say, do you now you should actually use a funnel?

And they're like, what's a funnel?

And I'm like, oh, the funnel is the greatest thing in the world.

Come do this training, it's 100 bucks, and over 30 days you'll be training over 30 days, exactly how to build the funnel and launch it for your specific business. You tell a business owner that they sign up, you get the entire enrollment fee. That $100 goes directly to you, they get this huge kit in the mail, and they get a 30-day one-on-one coaching program, it's actually not one-on-one, it's one on many, it's a group coaching program, sorry, that's really, really, powerful, it helps them to get a funnel built, and launch the side of their company.

And so, that's what I would do, I'd tell my mom, my sister, whoever, this is how you go and start making $100 a day. It's very simple, it's telling people about the One Funnel Away challenge, getting them to create their very first funnel, and they have success with that, and you get paid $100 for giving them the education they need to actually get started.

And so, that's it. It's not complicated.

You don't have to go build the funnel, you don't have to go and do something that doesn't actually work. All you got to do is just tell people about this challenge, and you make $100 for every single person that signs up. that's it.

It's so simple, it's so easy, and it's something that anybody can do. So, if you want to make $100 a day, the easiest way is to go out there and tell 10 people about the One Funnel Away Challenge, if you get one out of 10 to sign up, boom, you've made 100 bucks.

And, right now, this page currently converts at about 10%, it's about one out of every 10 people that hit this page, end up signing up for the challenge. That means find ten people, tell them about the challenge, boom. Now, I'm asking you, do you think you could contact ten people in a day? That's like, 1.5 people an hour if you work an 8 hour day. Okay, all you do is tell 10 people about us, 1.5 people per hour, and over a day period of time, you should have at least one person sign up for the challenge, and if so, you've made 100 bucks. And if not, go tell a couple more people.

That's the power behind the One Funnel Away Challenge, and it's exactly what I would tell you if you were sitting with me right now. You want to make 100 bucks a day, this is the easiest way, is, give people this education program, and you get paid $100 for every single person that signs up."