In today's highly competitive business world, marketers need to grow faster to get ahead of the competition. In struggling to bring your business to higher heights, some efficient growth tools can assist you in all kinds of marketing trends and strategies, including SEO, email marketing, social media marketing, and so on. These tools will extend the reach of your business and provide new opportunities for sales. Additionally, they help you gain access to vital resources and detailed information you may not have otherwise discovered. In short, by using efficient growth hacking tools, you will achieve your marketing goals with maximum success (or revenue) at the lowest cost.
Note that there are other growth tools with alternative solutions. It may help to explore different tools to see what each offers. Which one best suits your business and yields the results that you want. This list will introduce the top four growth tools for marketers to maximize the effectiveness and efficiency of their marketing campaigns. So let's dive in.
1. Droidowl
Are you looking for a complete package of online services? If so, using Droidowl services can be of benefit to you.
In today's business world, having a website is practically a necessity. Suppose you need to increase your organic customers through strategic SEO and website development. In that case, Droidowl's SEO service enables you to rank highly in search engines and attract more online visibility and reputation for your brand. Droidowl offers services in several areas, including keyword research, page load speed, content optimization, ranking high on google maps, and more.
Furthermore, if you have chosen Facebook as your digital marketing platform, the service can also help you grow your brand through Facebook paid ads. Advertising on the world's largest social media network will increase your potential customer base. With an expert team of content creators and social media experts, they will assist you to unlock the full potential of your Facebook advertisements, social media marketing, and online advertising.
Droidowl Features
Offering a complete service package including SEO, web development, digital marketing, and more.
Partnering with great companies.
Implementing local SEO
Brand monitoring.
Finding the best type of content and platform for your brand.
Providing advanced analytics.
2. Ainfluencer
The next growth tool on our list is Ainfluencer. This influencer marketing hub allows you to find influencers easily and run strategic influencer marketing campaigns on Instagram. Finding the right influencer, measuring the effectiveness of the influencer campaign, or price negotiations are some of the biggest challenges that marketers may face. Ainfluencer comes to your rescue in such situations and provides the best-matched and reliable influencers for your brand at an affordable price. It reduces the complexity and time required to make influencer marketing successful.
Ainfluencer Features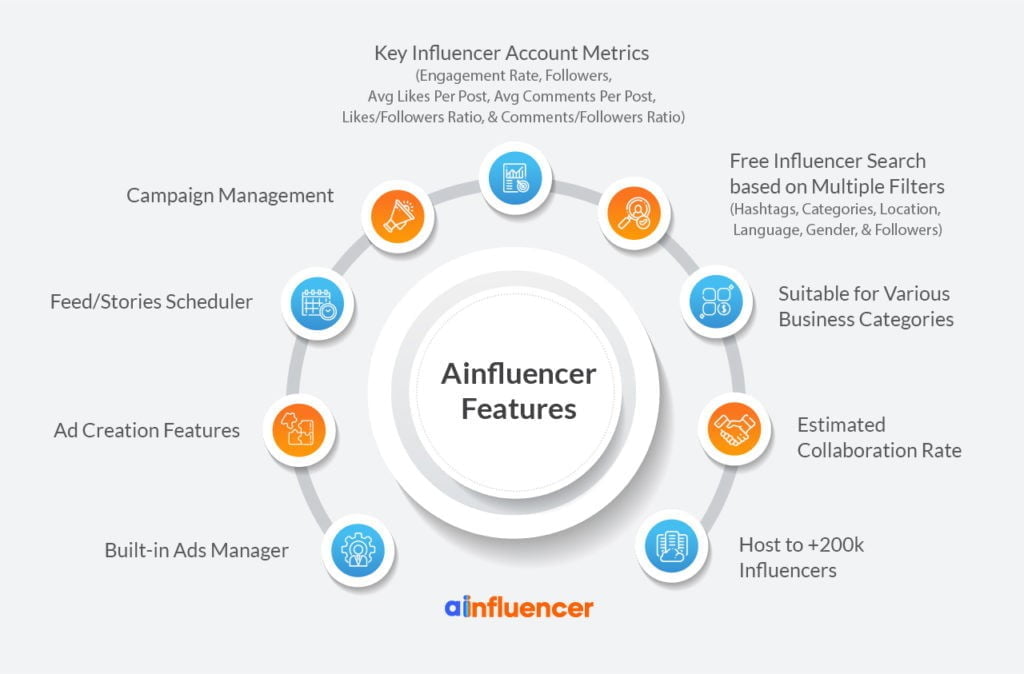 Analyzing the performance, cost, and efficiency of Influencer marketing campaigns.
Organize collaborations with as many influencers as you desire.
Reducing risks and resolving any issues that may arise.
An in-app chat system for building better relationships between brands and influencers.
Ensuring that the promotional post gets published.
Delivering real-time analytics.
It is easy to use and free for both influencers and brands.
3. WatchThemLive
WatchThemLive, an alternative to Crazy Egg, is a behavior analytics tool that can help businesses increase their conversions by providing a deep understanding of users' behavior and needs. This tool helps you gather digestible data about user interactions, enabling you to deliver a better user experience.
With WatchThemLive, you can watch recordings of users' sessions, set up heatmaps on your web pages, track the journey of a specific user, and so much more.
WatchThemLive Features:
Heatmaps
Replay
Analytics
Goal Tracking
User Tracking
Page Optimization
4. Aigrow
If you plan to leverage Instagram for growing your business, AiGrow ranks among the top Instagram growth tools to help you achieve your goals. AiGrow is an organic Instagram growth service with many unique features that guarantee your marketing progress on Instagram. It is an all-in-one management tool that assigns professional account managers to work on your Instagram business account for higher growth and engagement. Your dedicated account manager is responsible for managing the daily growth activities to increase your following.
Therefore, if you wonder how to get more followers on Instagram organically and safely, AiGrow is the perfect option for you. Using the tool, you can get a minimum of 300 monthly followers, and with scaled growth activities, up to 1000 Instagram qualified followers per month.
Moreover, it helps you schedule Instagram posts and stories to achieve a better content marketing strategy and increase your engagement rate. It does a lot of the heavy-lifting required for Instagram growth, like sending out mass Instagram DMs, repost on Instagram, picking giveaway winners, and much more!
AiGrow Features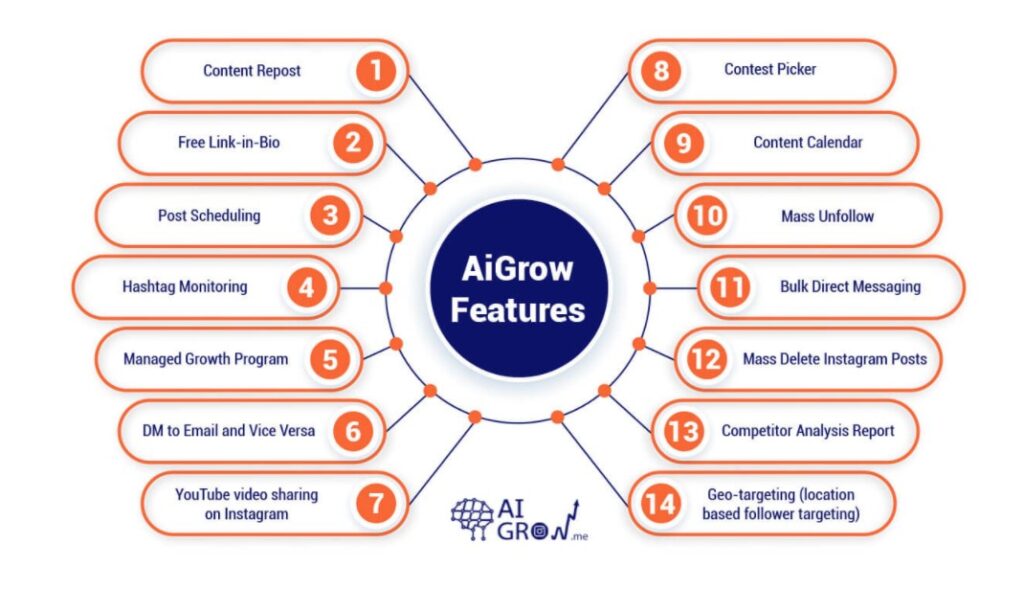 Mass Instagram DM outreach
YouTube video sharing on Instagram
Instagram giveaway picker
Competitor analysis and monitoring
Mass Instagram unfollow
Bulk posts deleter
5. HubSpot
HubSpot is another essential growth tool for online marketers today to grow their business. It can help your business market and sell more effectively. The HubSpot Growth Suite is a powerful marketing tool that can draw in more potential leads and track your sales funnel. In HubSpot Growth Suite, several hubs, namely marketing, sales, and service hub, are integrated around an easy-to-use CRM (customer relation management) platform to help businesses grow better. In a sense, HubSpot Growth Suite is the foundation that marketers need to succeed in a sustainable, predictable, scalable way.
HubSpot Features
Providing a single, integrated platform to support all marketing functions.
Tools for social media marketing.
Mobile optimization for emails, blogs, and more.
Website optimization and inbound marketing to maximize performance.
Email marketing.
Supporting excellent customer service
User-friendly and cost-effective platform.
Final Notes
Growth tools increase efficiency and decrease the cost of marketing efforts, helping marketers to have a competitive advantage for getting ahead of the rest. There are hundreds of growth tools available that you can utilize, but the list above outlines some of the most proven and reliable ones that you should know. However, there are hundreds of other tools on the market that you can benefit from in various ways. Thus, in selecting the growth tools available for you, make sure you choose those that best suit your specific business goals or needs. If you map out your marketing strategies and challenges that require a tool, it will be much easier to select the right one to your advantage.
I hope you find these growth tools helpful in promoting your business. So you can get to work on boosting conversions and making more sales online. If you have any practical experience using a growth tool from the list or beyond, please share it with us in the comments below. We appreciate hearing your insightful feedback.
Jacob is a Digital Marketing fanatic. He loves to learn and implement new techniques to highlight the best practices in search engine optimization and Facebook Ads.
He is always seeking knowledge and opportunities so he can share his acquired wisdom with the world.
He started working at a small marketing firm early in his career and learned how to create social media and email marketing campaigns. From there, he moved on to work at a more prominent digital marketing agency, where he learned about SEO, PPC, and CRO.
He loves to study and research different SEO and CRO strategies so he can apply them in his work. He firmly believes that the people and clients he's worked with have influenced his skill growth, and he loves to help others improve their skills.
He's very driven and continually seeks ways to solve problems, create new innovative ideas, and increase his knowledge. Jacob always ensures that his work is done professionally and accurately. In his free time, he loves to go for long runs, listen to music, and spend time with his family.
About this blog
We help our clients through our services and write our novel findings through our blog to help out others.
Request a free quote
DroidOwl offers time tested Facebook Advertisement, Search Engine Optimization, and Web Development services that help brands attain and retain customers.
Subscribe to our newsletter!