Link building is a complex task that cannot be sugar-coated in any way. However, it may be done much more quickly and easily if there are SEO link-building experts.
It would help if you got quality links at scale when it comes to link building. It can be challenging, but it's important to remember that not all links are created equal. A few high-quality links can have a much more positive impact on your website than many low-quality links.
This article may be a big help to those who are looking to increase their link-building efforts. It provides actionable tips on how to get quality links at scale.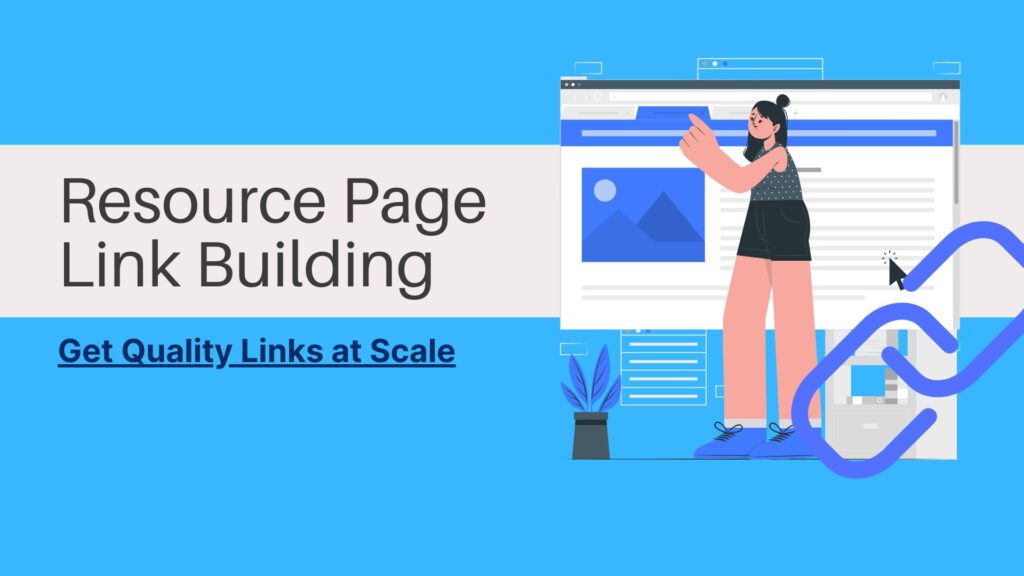 What is Resource Page Link Building All About?
A website's resource page is a page that provides links and other informational resources for a specific subject. For example, a website about pet care may have a resource page that includes links to pet-related websites, articles, and products.
Resource Page Link Building is simply the process of building links to your website from resource pages. It can be a very effective link-building strategy because it allows you to get high-quality links from websites that are relevant to your niche.
Benefits of Resource Page Link Building
There are many benefits to link-building from resource pages. Here are a few of the most notable benefits:
Increased Traffic
One of the most apparent benefits of resource page link building is increased traffic. When you build links from resource pages, you are essentially getting free advertising for your website. It can lead to a significant increase in traffic, leading to more sales and conversions.
Improved SEO
Another benefit of resource page link building is improved SEO. Linking to your website from resource pages can help to improve your website's search engine ranking. It is because search engines view links as a vote of confidence. The more high-quality links you have, the better your chances of ranking high in search engine results pages.
Increased Authority
When you build links from resource pages, you are also increasing your website's Authority. It is because you are getting links from websites that are considered authoritative. It can help to increase your website's trustworthiness and make it more likely to rank high in search engine results pages.
Is Your Website Link-Worthy?
Before you start link building, you must ensure that your website is link-worthy. It means that your website should be high quality and offer something of value to other websites. If your website is not link-worthy, no amount of link-building will help you.
The actual method to scale link building is to obtain links you did not ask for by creating a website that genuinely deserves links. You scale link building by reducing your reliance on sending emails each time you request a connection.
Keep this principle in mind when considering link building and reading the following parts. If you can find that sweet spot between proactively building links, getting ones you didn't ask for, and putting processes in place that allow you to scale your work, you'll be on your way to link-building nirvana.
Scale Your Link-Building Techniques
Now that you know about resource page link building, it's time to start using this technique to build links to your website. Here are a few tips to help you get started:
Find Resource Pages in Your Niche
One of the best ways to find resource pages is simply searching for them. You can search for "niche resource pages" or "industry resource pages." It should give you a good starting point for finding relevant resource pages for your niche.
Build Reusable Content Assets
You should constantly consider how much you can reuse and repurpose your content if you're producing it, intending to promote it and aim to get links to it.
You can see that a lot of effort was put into this in terms of research and the design and creation of the interactive elements. It's a significant amount of work. Scaling shouldn't be done in this way. To scale something, efficiency increases without a loss of quality are desired.
Limit the outcomes
Prioritize the page authority before the domain authority when settling on that decision. How much power a specific resource page has is indicated by its page authority. More "link juice" will be transmitted down to your website depending on how high the page authority is.
Keep It Relevant
Remember that the whole point of resource page link building is to get links from websites that are relevant to your niche. You should only build links from resource pages relevant to your website. Building links from irrelevant resource pages will not help your website.
Make Sure the Links are Do-Follow
When you build links from resource pages, you want to ensure the links are do-follow. It means that the link will pass along link juice to your website. No-follow links will not help your website's SEO at all.
Use Anchor Text
When you build links from resource pages, you should use anchor text. Anchor text is a clickable text. When you use anchor text, you tell search engines what your website is about. It can help to improve your website's search engine ranking.
Diversify Your Anchor Text
It would be best if you also diversify your anchor text. Using various keywords and phrases as your anchor text would be best. Using the exact anchor text can always lead to search engine penalties.
Keep an Eye on Your Link Profile
It would be best if you always kept an eye on your link profile. It means you should monitor the links pointing to your website. If you notice any suspicious or low-quality links, you should disavow them.
Stay Up to Date with Google's Guidelines
You should always make sure that you are following Google's guidelines. Google is constantly changing its algorithms, and you could be penalized if you're not following the latest guidelines.
Hire an Experienced SEO Agency
To scale your resource page link building, you should consider hiring an SEO agency. An SEO agency can help you to find relevant resource pages, build links, and monitor your link profile.
Final Thoughts
Link building from resource pages is an excellent method for your website. However, it's important to remember that this technique should be used alongside other link-building methods. You should also diversify your anchor text and keep an eye on your link profile. By following these tips, you should be able to build high-quality links at scale in no time.
Jacob is a Digital Marketing fanatic. He loves to learn and implement new techniques to highlight the best practices in search engine optimization and Facebook Ads.
He is always seeking knowledge and opportunities so he can share his acquired wisdom with the world.
He started working at a small marketing firm early in his career and learned how to create social media and email marketing campaigns. From there, he moved on to work at a more prominent digital marketing agency, where he learned about SEO, PPC, and CRO.
He loves to study and research different SEO and CRO strategies so he can apply them in his work. He firmly believes that the people and clients he's worked with have influenced his skill growth, and he loves to help others improve their skills.
He's very driven and continually seeks ways to solve problems, create new innovative ideas, and increase his knowledge. Jacob always ensures that his work is done professionally and accurately. In his free time, he loves to go for long runs, listen to music, and spend time with his family.
About this blog
We help our clients through our services and write our novel findings through our blog to help out others.
Request a free quote
DroidOwl offers time tested Facebook Advertisement, Search Engine Optimization, and Web Development services that help brands attain and retain customers.
Subscribe to our newsletter!