Have you ever questioned how search engines like Google, Yahoo, Bing, and many others can show results after typing your concerns and clicking on the 'Enter' key on a keyboard or magnifying glass icon on the search bar? Search engine optimization, also known as SEO, is one of the factors at play.
SEO is part of digital marketing, and its purpose is to help a website rank higher on search engine results pages (SERPs). Given that almost everyone uses the internet for various reasons, there is no better place to inform potential customers and promote products or services than online.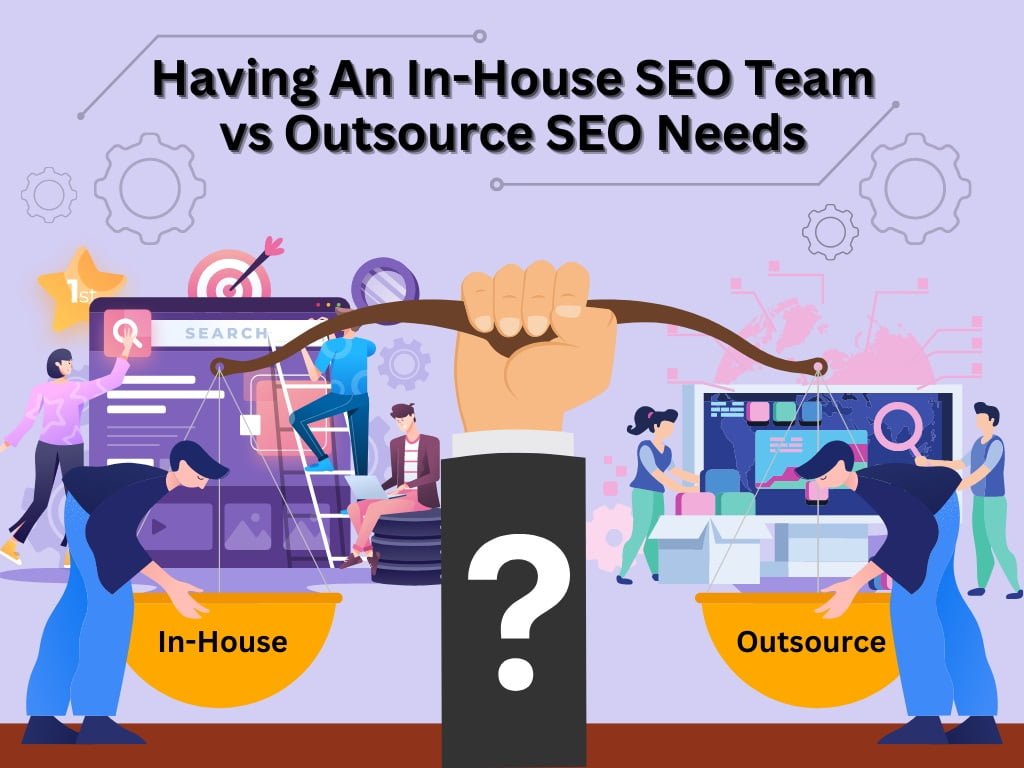 The problem, however, is that implementing SEO strategies for a company is easier said than done. While the internet has millions of materials about SEO, learning them can be time-consuming, especially if you put what you have learned into practice.
In that case, rely on professionals instead. You have two options: have an in-house SEO team or outsource your SEO needs from an SEO company in Singapore.
Continue reading to find out which one is the best for your business.
What Is An In-House SEO Team?
Employees with SEO expertise and tactics exclusive to a company are called an 'in-house SEO team.' In most cases, giant companies build one and put their in-house SEO team under the marketing department so both can strategically promote the products or services they offer.
The Pros Of Having An In-House SEO Team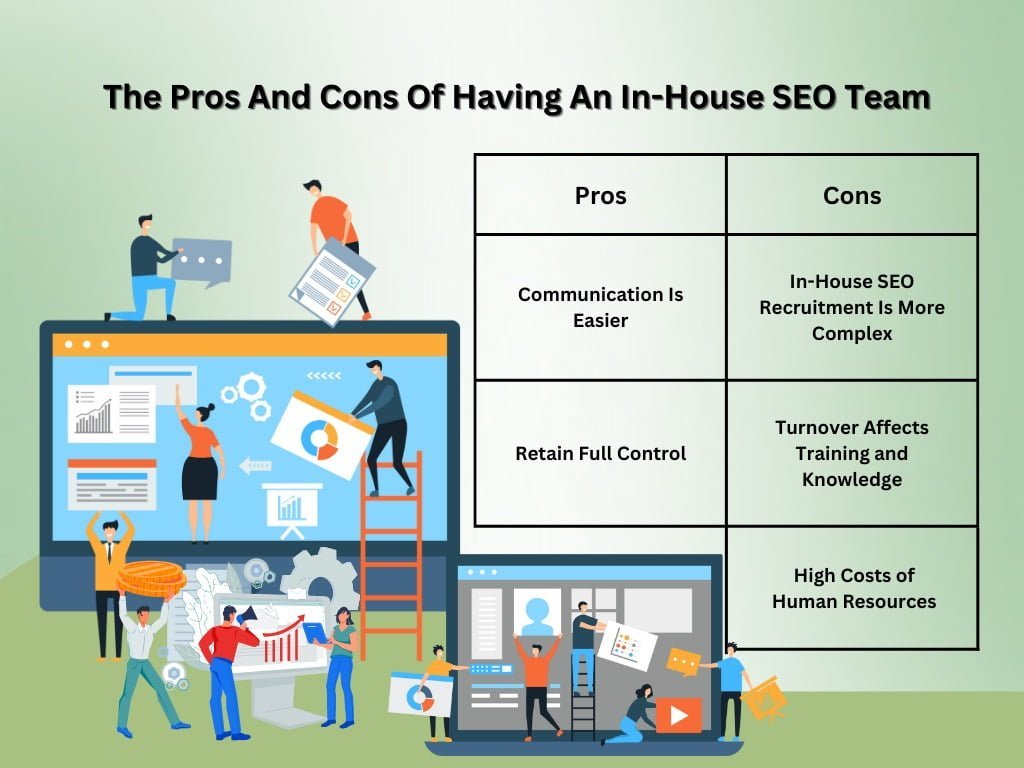 Communication Is Easier
Since in-house SEO teams are employees within the company, you can immediately reach out to them whenever you have a concern. If you want to change something at the last minute, you can inform them and explain what you want them to do in person. Face-to-face communication is much faster and more effective since you can clear any misunderstanding that might happen.
Retain Full Control
Internal SEO management gives you complete control over the entire SEO campaign. An in-house SEO team can also not work on any SEO campaigns without your direct approval on everything they do, so this option promotes more transparency as you retain your full control.
The Cons Of Having An In-House SEO Team
In-House SEO Recruitment Is More Complex
Building an in-house SEO team requires several considerations. After all, everyone you will include in the team besides an SEO consultant in Singapore can affect your website ranking and brand image as they will be the ones producing your SEO campaigns.
Here are some of the factors you have to consider during the recruitment process:
Years of experience
Type of SEO expertise
How skilled using SEO tools
Turnover Affects Training and Knowledge
Employees might be one of the pillars of support for businesses, but they always come and go. Losing an SEO consultant in your in-house SEO team without replacement can affect the timeline of your SEO campaigns. Even if you hire a new one, you must train them according to your internal SEO management before they can help.
High Costs of Human Resources
An in-house SEO team is like other employees in a company. Besides their monthly salary, you will have to provide additional benefits like health insurance, paid vacations, medical leave, and more.
What Is Outsourcing SEO Needs?
Outsourcing your SEO needs means working with an SEO company that is an expert in your business's industry. This firm has tons of SEO specialists and other professionals (e.g., copywriters, graphic artists, website designers, etc.). They also offer SEO packages in Singapore to make their SEO services to those who need their help.
The Pros Of Outsourcing SEO Needs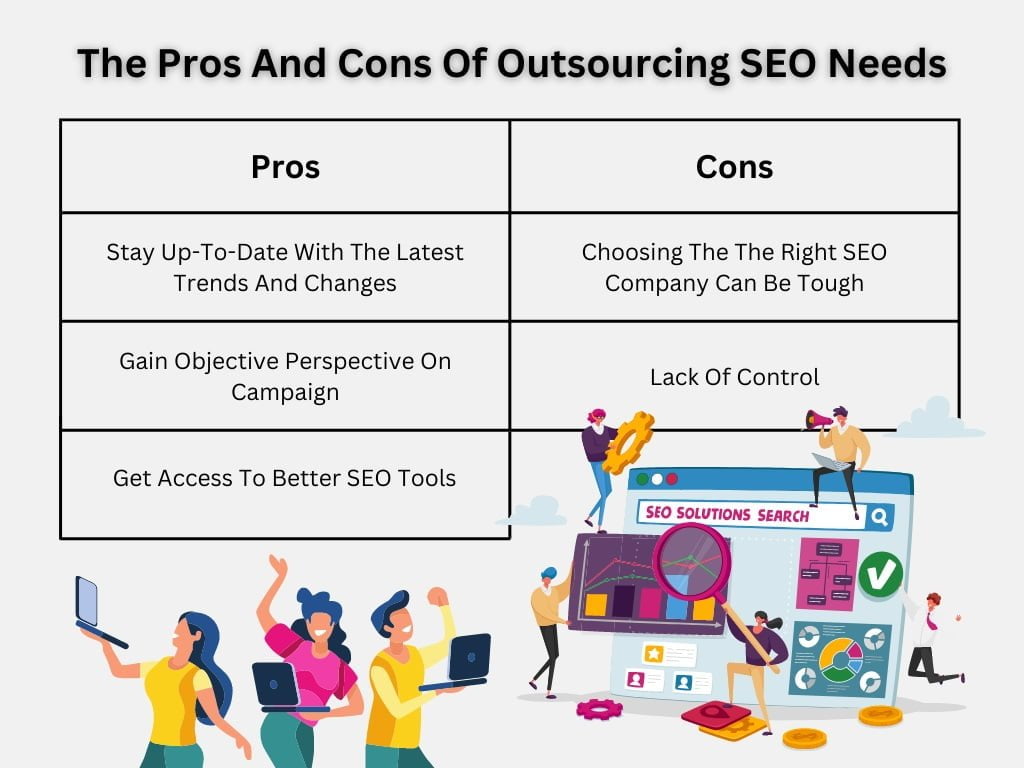 Stay Up-To-Date With The Latest Trends And Changes
Since search engines update their algorithm to improve the search formula of their platform, almost every SEO company keeps itself updated with the latest SEO trends and changes. With this, the SEO strategies they implement will not become obsolete with search engines' updates.
Gain Objective Perspective On Campaign
When you outsource your SEO needs to an SEO company, they will not speak to you with flowery words to gain your favor. You can expect them to look at your proposed SEO campaigns objectively as they place themselves in the shoes of your target audience.
From this point of view, an SEO company can help you improve existing, and future SEO campaigns to attract more customers, generate leads, and earn conversions.
Get Access To Better SEO Tools
Outsourcing your SEO needs can also help you access better SEO tools. Since most SEO companies have subscribed to premium plans of SEO tools, they can do in-depth research and analysis of your customer's behavior and use the gathered data to create better SEO campaigns that will capture their interests.
The Cons Of Outsourcing SEO Needs
Choosing The The Right SEO Company Can Be Tough
Every SEO company functions differently, and they have different SEO methodologies that may or may not suit your business's SEO needs. You have to consider a lot of factors to choose the right one. Here are some of them:
Your goals
Your budget
The SEO company's level of expertise
Lack Of Control
The lack of control refers to being unable to monitor your SEO campaigns as closely as possible. Receiving weekly or monthly SEO analysis reports about the performance of your SEO campaigns might not be enough if you want to see the entire process completely.
Which One Is Better For Your Business?
Your objectives and SEO needs will determine which one between the two options is better for your business. Outsourcing your SEO needs from an SEO company might be a better choice if you want a cost-effective way of strengthening your online presence. Meanwhile, having an in-house SEO team is an excellent idea if you have the extra funds to assemble a team of marketers.
Contact OOm, one of the leading SEO vendors in Singapore, at +65 6391 0930 to learn more about outsourcing SEO and how an SEO company can help you expand your business's reach and online presence.
Jacob is a Digital Marketing fanatic. He loves to learn and implement new techniques to highlight the best practices in search engine optimization and Facebook Ads.
He is always seeking knowledge and opportunities so he can share his acquired wisdom with the world.
He started working at a small marketing firm early in his career and learned how to create social media and email marketing campaigns. From there, he moved on to work at a more prominent digital marketing agency, where he learned about SEO, PPC, and CRO.
He loves to study and research different SEO and CRO strategies so he can apply them in his work. He firmly believes that the people and clients he's worked with have influenced his skill growth, and he loves to help others improve their skills.
He's very driven and continually seeks ways to solve problems, create new innovative ideas, and increase his knowledge. Jacob always ensures that his work is done professionally and accurately. In his free time, he loves to go for long runs, listen to music, and spend time with his family.
About this blog
We help our clients through our services and write our novel findings through our blog to help out others.
Request a free quote
DroidOwl offers time tested Facebook Advertisement, Search Engine Optimization, and Web Development services that help brands attain and retain customers.
Subscribe to our newsletter!