One Funnel Away Challenge Review + ULTIMATE BONUSES
I'm sure you've probably heard about the One Funnel Away Challenge by now…
(…you know, the 30 days challenge to build and launch your online funnel while having Russell Brunson, Julie Stoian, and Stephen Larsen as your coaches?)
If not, then don't worry. I'll explain the whole process in detail.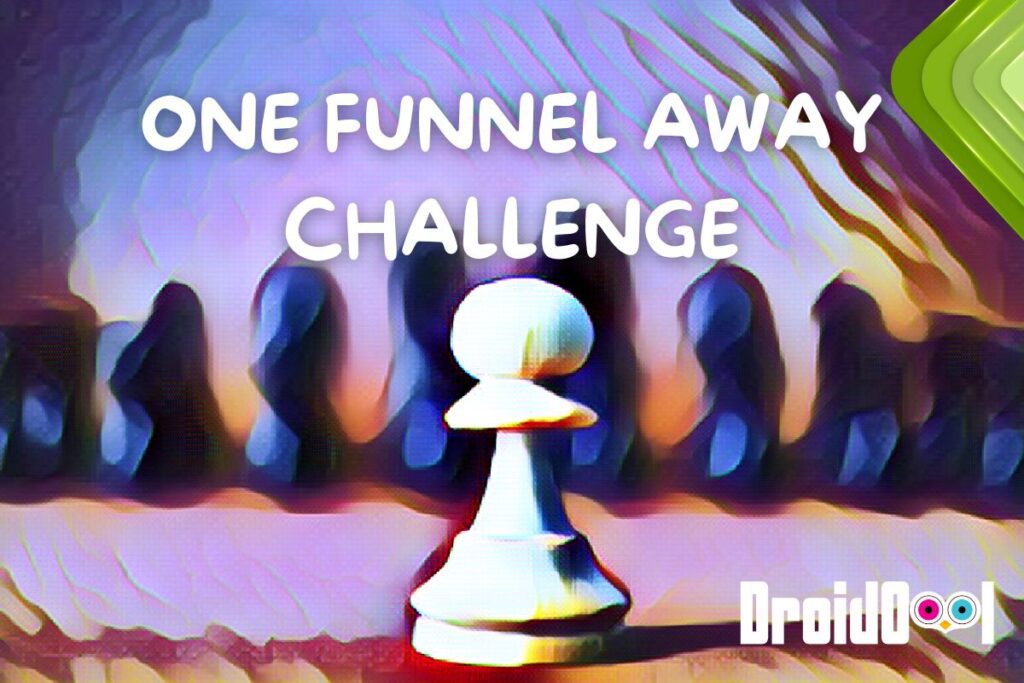 Who should take this One Funnel Away Challenge?
Read these questions…
Getting started or have no idea where to begin?
Are you in a 9-5 job that you hate and want to start your own Business?
Are you feeling stuck with your Business or Company?
Are you figuring out a way to greatly impact the World?
Are you convinced you need a Funnel or want to make your next one a huge success?
If your answer to the above questions is "YES," then you should join the challenge.
How to take the OFA Challenge?
Just click the below button to sign up for the challenge. Once you sign up, please email [email protected] with your order details to receive your bonuses.
What if I want my money back?
Now, that's the beauty of this challenge. If you're unsatisfied with the challenge, you get 30 Days to return the products and claim a full refund.
What are the Bonuses that you mentioned?
There are 2 types of bonuses that you get… These are the bonuses from ClickFunnels…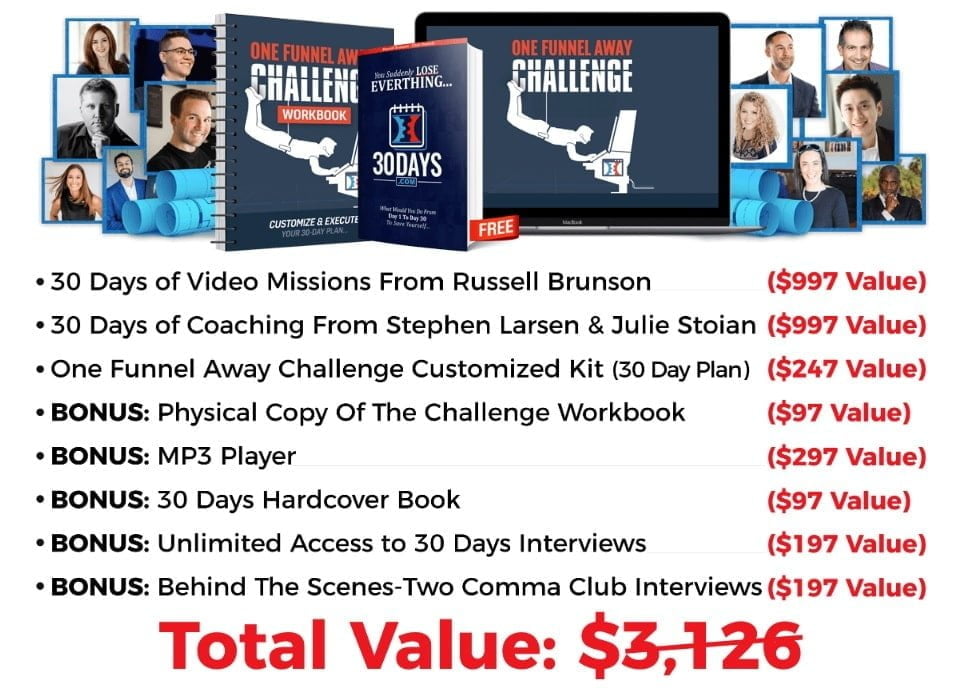 There will be a bonus from our side as well. After your purchase, please mail us at [email protected] with your order details to get the bonus.
This is a very limited-time offer from a third party (we'll send you the link to avail of the offer).
The Ultimate Collection of 100+ Cold Email Templates worth $1997.
How much does the OFA Challenge cost?
It costs just $100. But if you compare the price with its value and Bonuses, it costs nothing!
What will you learn with the OFA Challenge?
In layman's terms, you'll learn to earn $100 per day. Let me elaborate on that for you. You'll learn
To create high converting offers.
Connect with people with your story and get their attention
Structuring and building your first (or next) funnel
And finally, how to get people (the traffic) to it
Weekly Overview of the Program
Week #1 Hook, Story, and Offer
Creating Products
Secret Of E-Covers
Offer Sequencing
The Greatest Showman
Offer Hacking
Week #2 Hook, Story, and Offer
Testing your Material
Epiphany Bridge
Publishing your Origin Story
Testing Hooks/Stories
Week #3 The Funnel
Members Area
OTO Page
Sales Page/Order Form
Squeeze Page
Generate A Lead/Make A Sale
Week #4 Make It Rain
The 3 Types Of Traffic
The Dream 100
Hooks (Earned)
Hooks (Paid)
What Happens When Your Funnel Flops
A good plan violently executed now is better than a perfect plan executed next week.

George S. Patton
So… The question is… Do You Accept?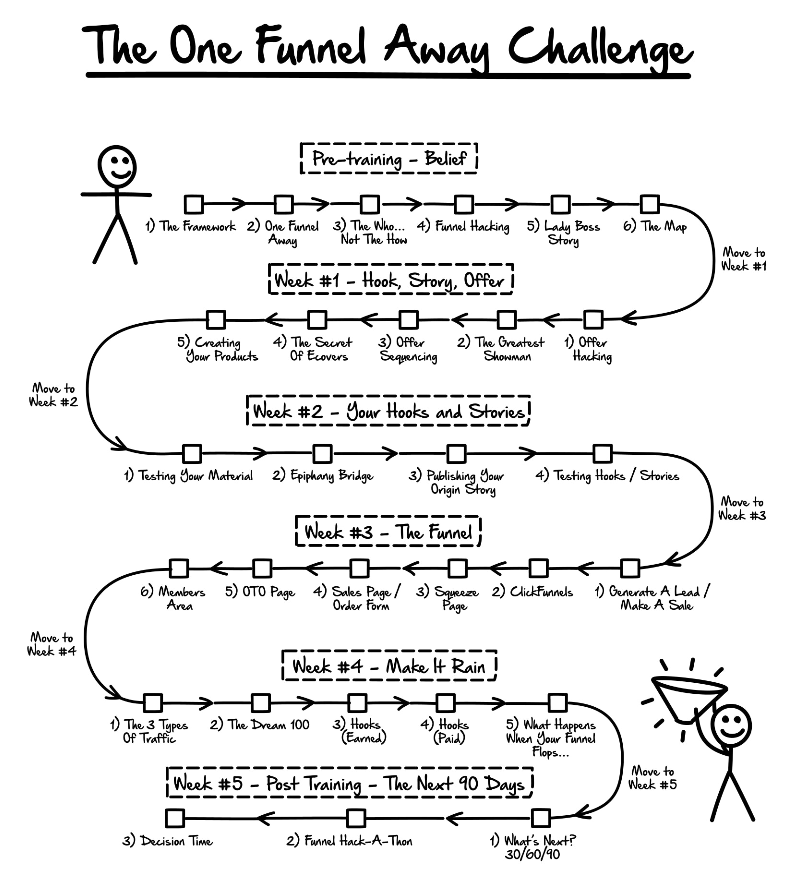 What Is The One Funnel Away Challenge?
One Funnel Away Challenge has tremendous potential to produce results to train the audience to develop a sales funnel successfully.
This helps sell online, deliver your message to more customers, support your business strategy, and enhance your business potential.
It plays smart techniques to produce more understanding for better business through the Funnel in 30 days training program.
Affiliate marketing is one salient feature of this business model; you become an affiliate marketer and earn money as you learn more and earn more eventually.
What Is Included In The One Funnel Away Challenge Kit?
An investment of $100 enables you to get One Funnel away challenge kit.
In return, you have a wonderful lifetime experience in which you enjoy priceless knowledge from an extraordinary team led by Trainer Russel Brunson, Coaches Stephen Larsen and Julie Stoian.
OFA Challenge kit includes
30 days 550-page hardcover book
It's an incredible workbook in your custody which you always need to understand the basic business plans and successful techniques developed based on a highly pragmatic business approach.
As you read this book more often, you become more eligible to understand the business strategy and technical material, which helps you make the pertinent business idea and execute it.
Numerous action plans and daily coaching lectures are included in the book, which helps you to build a new business idea even when you start your business plan and lay the foundation of one successful business.
It's a dynamic OFA daily coaching. It enables you to create your successful Funnel and bring your business back on track if it is either stagnant or not making profits.
There is lots of work that you go through to complete and get your Funnel operational. This Workbook has links with different video training called Missions.
Various checklists are available, and different sets of work are provided in this Workbook to gauge your productivity that work is required to be completed within a day.
Blank spaces are meant for taking notes, concluding ideas, and answering censorious queries.
The video training links connect that correspond to the daily mission and any other resource links you will need to finish the day's work.
It would help if you looked at this physical guide that details everything you have to do daily so you have everything in a single organized area which can keep you on track.
Thirty Best bits of Advice are an important part of this book which Two Comma Club members give. This book already has a very helpful Q&A session in which all relevant queries are answered in a way that everyone is to be understood quite easily.
The Workbook consists of important tasks, checklists, or reminders that must be completed daily.
Ample space for journaling and conceiving your ideas, and answering all key thought-provoking questions
Create a link between the video training and each day's mission
Any extra resource links you will need to complete the day's tasks
Thirty days of video training in challenge books have become integral to my daily routine.
It acts as a physical guide that speaks out everything you are required to do every day, all you have to be stay on track, so you need to be aligned in an organized area.
OFA MP3 Player with live recordings
The best part of the MP3 player with live recordings is that you can listen wherever you go as
Traveling
In-car
Running Errands
The MP3 Player contains the following material, which is helpful in training, and you can be trained accordingly.
Thirty days audio tracks by Russell's daily training
Live coaching of Stephen through audio recordings and previous work.
A total of forty hours of the training program and fifty-one Audio recordings are part of this great package.
What The One Funnel Away Challenge Will Teach You?
Suppose you are here to learn one Funnel away from the Challenge.
In that case, it is a training model that encourages the audience to join the Challenge and learn effective marketing strategies through live coaching, which helps build the right Funnel for your business and take your business to the next level.
It helps the audience to develop the right set of business skills to increase the business, reach out to the right customer, and convey your message across the board.
One Funnel Away' is the idea that you are 'one Funnel away from making money with your online business. Experts will try to convince you to buy their 'one-funnel' system, which is very simple to become a profitable online business if you use the right Funnel.
About The OFA Coaches
The best experts of their times and trade giants are getting together and providing your lifetime opportunity to have the best lessons of your life that you can dream of.
Russell Brunson:
Russell Brunson is 38 years old and one of the most influential digital marketers and internet entrepreneurs in recent history. Russell's net worth of $37 million has been generated from the success of his Click Funnels venture.
It's about 15 years from now. Russell has developed his following of hundreds of thousands of business entrepreneurs, sold millions of copies of his books, and made many people interested in his new concept of sales funnels.
He also co-founded a software company which is known as Click Funnels. Click Funnels has come up with the most growing company in the world.
Russell is also a known writer. He wrote wonderful books on effective business strategies and provided useful insights.
Traffic secrets, dot come secrets and expert secrets are well-written books by Russell that provide great and successful strategies that made click funnel a huge success.
Julie Stoian:
Julie Stoian is one expert in teaching people to make money. She gives consultancy on digital marketing and currently produces outclass content on the internet.
She is also a co-founder of different online business brands, which have a lot of positive impact on businesses now a day, such as Create Your Laptop Life, Funnel Gorgeous, and Digital Insiders.
Julie started her journey to entrepreneurship as a blogger and writer, got the attention of great media agencies like The New York Times and Washington Post, and she has grown up in less time to the extent where she could rule in the world of social media.
Stephen Larsen:
Stephen Larsen is another giant in the business. He is 44 years old with an estimated worth of millions of dollars.
Steve Larsen was the Lead Funnel Builder at Click Funnels for Russell Brunson, and he has over 500 sales funnels under his credit.
Another giant, the executioner in the business, Stephen Larsen, will coach you on daily live calls and answer your queries whenever you want more help completing your daily tasks.
He left Click Funnels as an employee to get his own Two Comma Club Award, and his business crossed $1 million in one year. His extraordinary class and best practices in the business created the podcast, Sales Funnel Radio which taught the best marketing tips.
Why Should You Sign Up For The One Funnel Away Challenge?
If you want one of the points mentioned below, you must sign up for one Funnel Away Challenge. This Challenge is meant for you. It is a practical step-by-step training that you have ever participated in.
This Challenge is meant for you if you are struggling with the following 11 points.
You are not interested in working as an employee anymore. You want to get out of your job routine.
You have your business idea, and you want to develop your business.
You have become stagnant and slow in your existing business and need to be revamped.
You want to reach out to your right audience and build them into potential buyers.
You want to start either your own online business or work from home.
You are an expert Online Marketer, and you are searching for extra Income and opportunities without Creating Your Products or Services.
You are confused, and you do not know how to begin.
Are you stretching your brains on the way to reach more and more people or have a more substantial impact on the world?
Conceptually you believe in Sales Funnel, but you do not have good knowledge of where or how to begin the business.
You want your Funnel to work within a month and grow your business.
You have plans to launch your next successful Funnel.
Earn Your $100 Back As an Affiliate
The other business model in Click Funnels is affiliate marketing, which offers 100% payout commission to their affiliate partners to take them onboard, and other customers are to join the 'One Funnel Away' Challenge.
You will get $100 for every established customer who joins the OFA Challenge through your Affiliate.
The Click Funnels Affiliate Bootcamp is a training program with no fee to join that supports you by promoting click funnels.
A couple of free introductory videos teach you how to create an online business and market your products and services.
Primarily affiliate Bootcamp is to help marketing beginners in 100 days by promoting Click Funnels. For every contact you make to Click Funnels, you earn a monthly recurring commission of up to 40 percent.
Why Is One Funnel Away Challenge Not Meant for You?
There are certain parameters you need to qualify to enroll in this program, but if you do not have the following below, you are not meant for one Funnel Away Challenge.
You're not eager to perform any work.
You don't concentrate and follow the instructions correctly.
They are shifting the blame on others.
You are not willing to explore new things.
You are not willing to get out of complaisance.
I dream of getting rich overnight.
You may think of high pricing and less affordability.
Everything Else You Need to Know About the One Funnel Away Challenge
Defining the sales funnel is a multi-tasking process that converts queries into potential buyers.
It has multiple steps because lots of potential queries must occur between when a prospect is aware enough to enter your Funnel and when they take action, complete a purchase, and become your potential customer.
Now a day's, the basic concept in the world of digital marketing is the sales funnel.
The basic concept of the sales funnel may sound different initially, but the core concept can take a nonexistent business to a mega marketing business with max capacity, seemingly overnight. Some specialists have built a wonderful career around implementing this single concept in business.
It will cost you $100 to get the One Funnel Away Challenge. If you want the OFA Challenge Kit, you will have to pay the shipping cost of $19.95 if you live in the US and $29.95 outside the US.
The Digital version of the OFA Challenge is another option to buy, which is not included in the kit.
Grow a Successful Business with the Help of One Funnel Away Challenge
The conceptual understanding behind a successful business with the help of one Funnel away Challenge is something that how anybody conceives this sales funnel model and imply on their business with its all paraphernalia includes live training, coaching, and expertise of world's best monitors of the business today.
You may be the employee and hate your job and want to get out of your job. You are an entrepreneur. You are stuck and stagnant and not giving good performance in your business; it is definitely not where you want to be.
One group of people thinks this Funnel will not be helping them to create a bigger impact on their business.
But it would help if you executed the idea of this funnel design and its basic components of what this Funnel is all about and how it will work for you specifically. It is considered the real key to success in this business.
The first thing you need to do is to believe firmly in this Funnel that it will work for you.
It is not like magic that will work for you in the spur of the moment, but it is people-to-people engagement and acts as a process that someone is taking step by step to reach the best of its practices.
The Funnel is acting like a salesperson in the universe. It takes someone to process what exactly he needs.
Each day you come across new videos, each one has a challenging mission, and after completing the mission, you also have some tasks to finish.
Many people get into it but do not understand the fundamentals because they are not very simple to understand. You need to understand the base core principle of direct response marketing, which makes Funnel very simple and easy.
Business is not only meant for earning revenues. This new process works for you. It has a great impact on your business and life as well. It also changes life and gives clarity of thought to your customers.
If you adopt this process as quickly, you must feel amazing energy and have high motivation level.
Although your ability to have positive business understanding is enhanced through OFA, which also serves your customer well and changes your business in a way that leads to the mantra of success which supports business to grow to its greatest extent.
Is there any guarantee?
Yes, there is a guarantee if you send back your challenge kit within a month of its arrival, you will get refunded $100. But since it costs so much to ship, it may not be worth doing this.
I don't have a lot of time to watch videos every day. Should I still join the Challenge?
If you don't have time and you are not going to spend an hour which is an important requirement every day, watching the challenge videos, therefore, I do not propose you sign up, and it is very easy to leave whenever you feel like catching up.
Does it have an affiliate program?
Yes, One Funnel Away Challenge has a wonderful affiliate program. It is a very easy way to cover your own cost of the OFA. It manages to pay 100% commission; however, you only need to sell one course to someone else to make your money back.
Although the One Funnel Away Challenge is the best Click Funnels training at the moment, it is very easy to sell, but I recommend you go through it first to understand how it works fully.
Frequently Asked Questions about OFA
– Is there any money-back guarantee?
Yes, there is a money-back guarantee. If you don't feel like that is true, you can send back your challenge kit within 30 days from the day it arrives at your house and receive a full payback of $100.
How much does this course cost?
The One Funnel Away Challenge costs just $100 for the Complete Training Package. In addition, you have to pay Shipping & Handling Charges extra, which is $19.95 for US buyers and $29.95 for International buyers.
Is it essential for me to have my products?
No, you don't have to have the products. You can only sell other people's products as an affiliate. You are making quite a good recurring affiliate commission by promoting Click funnels & its other products.
Does this course have an affiliate program?
Yes, this course has an affiliate program in which, if you don't have your product to sell, you can sell other people's products by working as an independent affiliate and earning your commission.
Do I need to have an active subscription with Click Funnels?
You don't need an active Click funnels subscription to sign up.
Do I need any special skills?
Technical skills are not required. Specifically, you need to know how to operate a computer, and you are eligible to have your enrolment in the One Funnel Away Challenge.
One Funnel Away Challenge Review: Conclusion
It's been great going through the One Funnel Away Challenge. I have experience developing a Sales Funnel is very important to market the product.
But it is not only creating a Sales Funnel. You must need some other elements to keep in mind, which are as under:
Your audience you want to reach out to has an urgent need for a solution to achieve a goal.
It would help if you offered great, and the product you offer should solve problems right there along with a great experience for them.
We are driving online traffic, learning the secrets of building online traffic, and reaching out effectively.
You have to build firm belief and reliability by giving value to your prospects so they can trust you.
Such as you publish useful content, Uploading helping Tutorials on YouTube, and building an email list to grow a trustworthy correlation with your readers.
It is evident that building a sales funnel is adequate; you also need some other important components to extend a profitable business online.
Paying a hefty amount of over $25000 to one of the Gurus, Russell Brunson and to attend his class, however in this OFA challenge, he is coming live coaching for the next four weeks, and he will be going to train you to the best way of making an offer and market it.
As I have learned that trainers like Russell Brunson, who has the capacity of easily charging $1,000 for the full 30-day Challenge, even more money, but here in this program OFA, your total spending is only $100, which is not a big amount to me as I calculate the benefits you get from this program.
In this OFA, we are not only having Russell Brunson on the panel but also training exposure from Steve Larsen and Julie Stoian. You are paying more money to attend their coaching.
But in this program, you have these top three world-class trainers for just $100. If I had imagined it practically, this would have been an outstanding offer as I expected to have this best trade-off.
In addition, you're also going to be connected to the monthly membership area, where 30 different two-comma Club members will reveal their 30 Days Action Plan on what they will do if they lose everything.
In the end, I summarize that I never had this lucrative investment of $100 in such an efficient and productive way in my life before the knowledge I have gained through this program is phenomenal and priceless.
The best competitive online training I have seen in my professional life is worthwhile in terms of the money you spend.
In return, you have skills developed capable of starting your new online business, or you have good potential to scale up your existing business to the best of its profitability.
Let's see what Russell has to say about the Challenge…
"Hey, my name is Russell Brunson and I want to welcome you to my channel.

I am so excited to have you here today, and I'm making this video because I was looking online, and there's a whole bunch of people that have videos to talk about how to make $100 in a day.

And I was watching a bunch of these videos to see what people are teaching.

It kind of drove me crazy. Some people had these complex plans that were like, these huge, elaborate things. I was like, there's no way that is even physically possible for the average human. And the other side, they have these plans that are so simple, like, that would never actually work.

And I got really, really frustrated and I started thinking, what would I tell somebody, if my mom or my brother or my sister, somebody I love was sitting here, and they were desperately looking like, I need a hundred bucks a day.

What should I be doing? I was like, what would I actually tell them?

And so, that's the whole premise of this video.

What would I tell my mom or my brother or somebody, if they needed to make $100 in a day?

Okay?

And so, kind of what I wanna do, I wanna take you back in time a little bit. If you don't know who I am, I'm the founder of a software company called ClickFunnels.

And ClickFunnels is a really powerful tool. It helps people build sales funnels.

The problem is a lot of people, at first, don't know what a sales funnel is. They're completely confused.

And so, we started building a bunch of education and things to teach people how to build funnels. In fact, one of our best education products is this one. It's called The One Funnel Away Challenge.

Now, I'm not here today to pitch you on that, but I want you to understand, that this is our training package. It's huge, it comes with books and mp3 players, and a whole bunch of training, as well as a 30-day live training program that trains people on how to use and how to create a funnel for their business.

And, it's one of the most powerful training tools we have. And, it's so powerful, in fact, that I actually give affiliates $100 for every single one of these boxes they give away, okay?

So, it actually, if you go to OneFunnelAway, and you sign up, it costs $100 to get the kit, but I pay affiliates the entire $100.

So, I would tell my wife or my sister or my friend, or whoever's doing this, I'd say, go to One Funnel Away, click right here on this tab that says Affiliates, and become an affiliate, and then tell people to sign up for the challenge.

Every person signs up for the challenge, they pay me $100, and then I give that $100 directly to the person who just signed them up.

So, what's powerful about this, is, you can literally go down the street to businesses and say, hey, what's your web presence right now, and they're like, I have a website, or I have whatever, and say, do you now you should actually use a funnel?

And they're like, what's a funnel?

And I'm like, oh, the funnel is the greatest thing in the world.

Come do this training, it's 100 bucks, and over 30 days you'll be training over 30 days, exactly how to build the funnel and launch it for your specific business. You tell a business owner that they sign up, you get the entire enrollment fee.

That $100 goes directly to you, they get this huge kit in the mail, and they get a 30-day one-on-one coaching program, it's actually not one-on-one, it's one on many, it's a group coaching program, sorry, that's really, really, powerful, it helps them to get a funnel built, and launch the side of their company.

And so, that's what I would do, I'd tell my mom, my sister, whoever, this is how you go and start making $100 a day.

It's very simple, it's telling people about the One Funnel Away challenge, getting them to create their very first funnel, and they have success with that, and you get paid $100 for giving them the education they need to actually get started.

And so, that's it. It's not complicated.

You don't have to go build the funnel, you don't have to go and do something that doesn't actually work. All you got to do is just tell people about this challenge, and you make $100 for every single person that signs up. that's it.

It's so simple, it's so easy, and it's something that anybody can do. So, if you want to make $100 a day, the easiest way is to go out there and tell 10 people about the One Funnel Away Challenge, if you get one out of 10 to sign up, boom, you've made 100 bucks.

And, right now, this page currently converts at about 10%, it's about one out of every 10 people that hit this page, end up signing up for the challenge. That means find ten people, tell them about the challenge, boom.

Now, I'm asking you, do you think you could contact ten people in a day? That's like, 1.5 people an hour if you work an 8 hour day.

Okay, all you do is tell 10 people about us, 1.5 people per hour, and over a day period of time, you should have at least one person sign up for the challenge, and if so, you've made 100 bucks. And if not, go tell a couple more people.

That's the power behind the One Funnel Away Challenge, and it's exactly what I would tell you if you were sitting with me right now.

You want to make 100 bucks a day, this is the easiest way, is, give people this education program, and you get paid $100 for every single person that signs up."
DroidOwl is dedicated to providing cutting-edge sales and lead generation solutions for large and small businesses. Contact Us to know more.
OFA Challenge – Frequently Asked Questions
Is the one funnel away challenge worth it?

I've been doing the One Funnel Away Challenge for a while now, and I have to say I've been very impressed with the content and the power.

It's not as easy to get through as you might expect, and it'll get you pumped to take action. There's a lot of value and a fantastic community behind the whole thing.

How often is the one funnel away challenge?

The one funnel away challenge takes place every 2 weeks.

There is no set number of days you need to commit to or hours worked to produce results. You can be as committed or non-committed as you want towards this project.

For instance, if you want to do it, you can do it right now and not come back until you are done. Or, you can take a slower approach and return to the project in two weeks.

Is the one funnel away Challenge live?

Yes, the One Funnel Away Challenge is real. This Challenge is a virtual 30-day program that will guide you every step of the way in creating a highly profitable sales funnel.

This program is for you if you are serious about developing a successful online business.

How do I get a refund on the funnel away challenge?

Can I get a refund for the One Funnel Away Challenge? If unsatisfied with this product, you can request a refund on Funnel Away Challenge.

But it should be done within the first 30 days of purchase. They will ask you to post the purchase date and ask you a few other questions to check if you qualify for the refund or not.

You will have to get in touch with Funnel Away's support team. Send them a mail, and they will reply within 2-3 days.